Amazing meals
&
great entertainment
Outram Ya Hua Bak Kut Teh offers diners Teochew-style bak kut teh soup which is clear and full of peppery flavour. The soup is tasty and the pepper taste is not overpowering to diners.
It's the pork ribs , the highlight of the show. And at Outram Ya Hua Bak Kut Teh, the pork ribs are tender enough for you to enjoy your meal.
It is famous for the peppery flavour soup and tender meat.
Outram Ya Hua Bak Kut Teh features a typical atmosphere of a coffee-shop setting, usually packed during meal times.
The magic is in the pork ribs, and pepper. We source for the finest ribs and pepper so that our diners can enjoy a delicious bowl of bak kut teh every time.
Our style may be casual dining, but we settle for only the best ingredients. Do check out the other dishes on our menu.
Best Ba Kut Teh
Award winning meals, delivered by an amazing team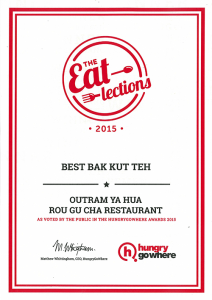 Best Bak Kut TeH , As voted by the public in the Hungygowhere awards 2015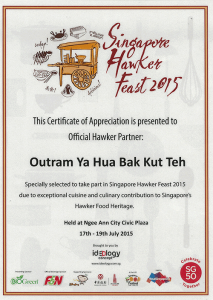 Specially selected due to exceptional cuisine and culinary contribution to Singapore's Hawker Food Heritage.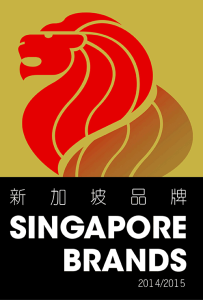 As the Proud recipient of 2014/2015 SINGAPORE BRANDS AWARDS
Awarded as CIRCLE of EXCELLENCE Food & Beverage Industry by Asia Business Journal